The Green Party Presidential Primary is underway. Please visit http://www.gp.org/2016-gpus-presidential-nomination for information on the process.
In the Maryland Green Party, we will make a mail-in ballot available in May 2016. The final vote and tabulation of the ballots will occur at The MGP Assembly and Presidential Nominating Convention.
MGP Assembly and Presidential Nominating Convention
Sunday, June 12, 2016
1:00 p.m. - 5:00 p.m.
Location:
The Junior League of Baltimore, Inc.
5902 York Road
Baltimore, MD 21212
At the Convention, we will total all of the presidential ballots, and determine the number of delegates awarded to each candidate. The Maryland Green Party has a total of 6 delegate slots. The 6 delegates will join Green Party delegates from across the nation at the GPUS Presidential Nominating Convention in Houston, Texas on August 4th – 7th.
(If you are interested in becoming an MGP delegate, please plan to attend the MGP Assembly and Presidential Nominating Convention on June 12th. Please check back here for updates and details).
Voting Instructions
Maryland Green Party – Senate and Congressional Primary Election
1. Open the document (linked at the bottom of this post) entitled, "MGP Senate/Congressional ballot".
2. Print the ballot, double-sided (If you can only print single-sided, that's fine. Make sure you complete and send both pages).
3. Complete the VOTER AND DISTRICT INFORMATION on the front of the ballot. This information will be used to verify that you are a Maryland registered Green. After we verify your information, we will cut off this portion of the ballot. No one will view or count an actual vote until May 1st. Your identity will not be linked to your vote in any way.
4. Complete the voting section of the ballot. You may find instructions for this section directly on the ballot.
5. Mail your ballot to this address:
Maryland Green Party
P.O. Box 217
Kensington, MD 20895
6. Your ballot MUST ARRIVE by April 30, 2016. We will count the votes on May 1, 2016.
DO NOT give your ballot to a campaign. We will not accept ballots handed to us from a campaign.
7. THANK YOU for voting in the 2016 MGP Primary.
Here are the MGP Senate/Congressional ballot (download 384k .pdf) and these voting instructions (download 31k .doc). 
The Maryland Green Party primary for Senate and Congressional candidates is about to begin. Beginning April 6, 2016, we will make a downloadable ballot available on this website. Please check back soon.
At our recent assembly, the membership of the Maryland Green Party elected new officers. Congratulations to the new leadership of the Maryland Green Party!

Ian Schlakman and Bonnie Lane will serve as Co-Chairs. 
Amie Myers will serve as Treasurer. 
Leslie Ware, Jr will serve as Membership Coordinator. 
Julia Rice will serve as Secretary. 

Bahram Zandi and George Gluck will serve as Delegates to the Green National Committee. 
  
The Maryland Green Party's annual assembly will be held on Saturday, May 16.

TIME:  10:30am - 3:30pm

LOCATION: Howard County Library - Glenwood Branch, 2350 State Road 97, Cooksville, MD 21723

The assembly will feature a panel of MGP candidates discussing what it takes to run a campaign for office; and a panel on coalition building with other third parties and activists.

We will also be electing party officers for the coming year.

We request a contribution of $25 to help cover the costs of food and materials but no one will be turned away for not making a contribution.

Click here for more information and to register.

 
Forwarded on behalf of Jill2016 Exploratory Committee:

At a press conference this morning, Dr. Jill Stein told the assembled media, guests, and a live TV audience tuning in to C-SPAN that she is "testing the waters" and forming an exploratory committee to seek the Green Party's nomination for President of the United States. More information about the exploratory committee can be found at Jill2016.com.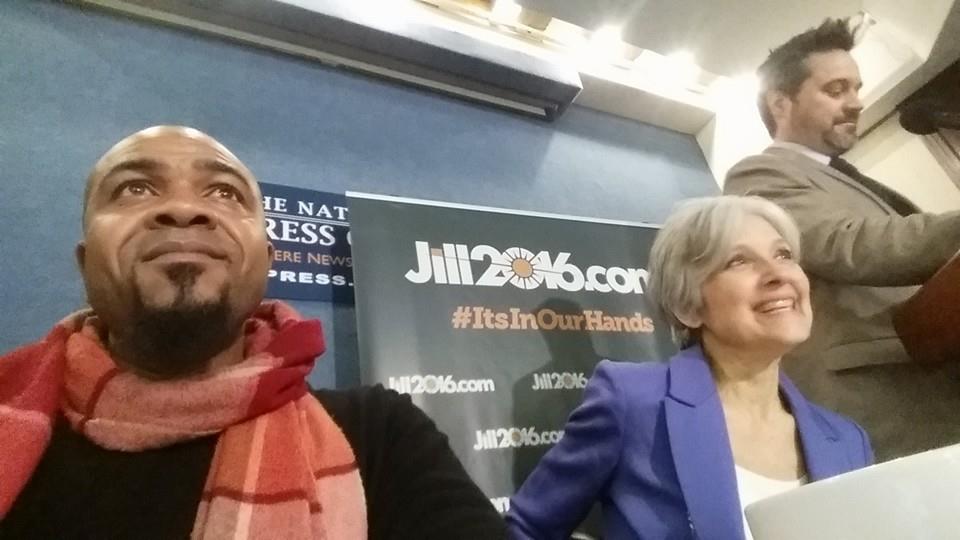 The declaration came just hours after Dr. Stein's exclusive interview with ABC News made a splash on the Yahoo! News homepage.

In her prepared remarks, Stein noted that the "demand for deep change has grown to a fevered pitch. Workers are fighting for living wages and the right to a union. Students are demanding an end to college debt that's crippled a generation. Young people are leading the courageous Black Lives Matter movement to end police militarization and racist violence. Momentum is growing against abusive high stakes testing that forces poor kids down the deadly school-to-prison pipeline. The fight is building against predatory mass incarceration. Hard-working immigrants are standing up for a humane path to citizenship, not simply a three year deferral of deportation. Frontline and indigenous communities are leading the resistance to toxic fossil fuels that threaten to disrupt civilization as we know it in our lifetime."

Stein was the Green Party's 2012 candidate for President of the United States. She is an organizer, physician, and pioneering environmental health advocate. She has helped lead initiatives promoting healthy communities, local green economies and stronger democracy - including campaign finance reform, green jobs, racially-just redistricting, and the cleanup of incinerators, coal plants, and toxic pesticides.

Speaking to the potential that Dr. Stein represents to the groups traditionally tied to the Democratic Party - such as the labor movement - Richard Monje, a union leader with the group Chicago ad Mid-West Regional Joint Board of Workers United, issued the following statement:

"Jill Stein will be a voice in the electoral arena that will represent all workers and will fight for our right to organize. As long as the union movement allied itself with the Democratic Party only, the power of workers in general, and unions specifically, will continue to decline."

Dr. Margaret Flowers, an organizer with Popular Resistance, said of Dr. Stein:

"I am so glad to see that she has the energy and persistence to consider running for President again in 2016. She has great integrity, a deep understanding of the root causes of the many crises we face and the courage to challenge the system so that we create a healthier and more sustainable society and planet."

Also urging Dr. Stein to run for President in 2016 were Anita Rios, the 2014 Green Party nominee for Governor of Ohio, along with local recording artist Head Roc, known worldwide as the "Mayor of DC Hip Hop." Both Rios and Head Roc spoke at the news conference today. Video of their remarks will be available at Jill2016.com by late afternoon Friday.

In closing, Dr. Stein told the assembled media and guests, "This is the time to come together. Solutions are in our hands. Justice is in our hands. Democracy is in our hands. Together we can create a world that works for all of us, and ensure that people, planet and peace will prevail. It's in our hands."

More information:
Jill2016.com

Note: the Maryland Green Party will hold a statewide primary election to select its nominee for President in mid-2016. All candidates who have been recognized by the Green Party of the United States will be eligible to seek the nomination. 

  
   
In response to his first State of the State address this week, the Maryland Green Party urges Governor Larry Hogan to consider Green values as he plots his administration's "new direction" for Maryland.
Governor Hogan spent a significant amount of his address outlining plans for resolving what he described as "economic problems". Governor Hogan focused on "high taxes, over-regulation, and an anti-business attitude" as the basis for what the Governor views as sub-par growth and competitiveness.
The Green Party urges Governor Hogan and all members of the General Assembly to adapt alternative means for measuring the state's success, and to recognize that stagnant economic growth - regardless of planning or regulatory schemes - will be inevitable as we continue to use more resources than are naturally available to us.
In 2013, Governor Martin O'Malley introduced a Genuine Progress Indicator (GPI) as an alternate means for measuring success beyond traditional productivity measures. While the state's Department of Natural Resources advertises the GPI measure as an "index for sustainable prosperity," the O'Malley administration did little to promote the measure. The Green Party urges the Hogan administration to promote the GPI as the main tool for determining the success of Maryland's business, regulatory and tax agenda.
Governor Hogan highlighted several of his administration's tax priorities, including the elimination of income tax on retirement and pension income and cuts to taxes on personal property for small business owners.
The Green Party believes that the Governor's responsibility as chief executive is the prosperity of all Marylanders, not just those living on a public service pension or those who own a business. In order to ensure economic justice for all Marylanders, the Green Party calls for an immediate increase in the state minimum wage (currently set to phase in by mid-2018), an additional increase in the minimum wage to $15 per hour, and the establishment of a statewide living wage.
The Green Party also calls for a national basic income guarantee ("Social Security for All") and universal, single-payer health care ("Medicare for All"). Maryland can be a leader among states by implementing both programs on the state level.
Governor Hogan pledged to improve public transportation, and promised to "give counties and municipalities the most money they have received for road improvements since Fiscal Year 2009". The Green Party urges the Hogan administration to resolve decades of uncertainty over the Baltimore Red Line and DC-area Purple Line projects, and make a commitment to funding safe and reliable transportation for all Marylanders, even those without access to private transit.
Governor Hogan said that it is "time for a new approach" on protecting the Chesapeake Bay. The Green Party is concerned that the Hogan administration's "new approach" relies on a continually-disproved "hands-off" approach to waste and resource exploitation. The Green Party urges a national fee-and-dividend system for lowering climate emissions, under which producers of climate-changing gases would be charged per unit of emissions. Maryland can once again be a leader among states by moving toward adopting this model, and expanding it to nitrogen, phosphorous and other water-based pollutants.
Governor Hogan highlighted the value of the Chesapeake Bay and the issue of stormwater management early in his address, and promised to repeal the Stormwater Remediation Fee, which he said taxes Marylanders "for the rain that falls on their homes." The Green Party urges Governor Hogan show his commitment to environmental protection by abandoning the disingenuous use of the phrase "rain tax" and treating the issue of how the design of our homes, neighborhoods, streets, farms and stormwater systems effects our natural environment with the respect the topic deserves.
Governor Hogan noted the seriousness of Maryland's heroin abuse issue, and called for stakeholders to develop a "plan to tackle the epidemic." The Green Party calls for an end to the failed "War on Drugs", the legalization of drugs and treating drug abuse as a public health - not criminal - issue. The party calls on Governor Hogan to include legalization advocates in the stakeholders he invites to develop a heroin epidemic response.
Governor Hogan concluded his first State of the State address with a call for campaign finance and election reform. The Green Party agrees with the Governor's statement of support for an "honest and open political process that challenges convention." The party supports Governor Hogan's call for public financing of Gubernatorial campaigns and his call for independent redistricting to address rampant gerrymandering.
The Green Party asks Governor Hogan to amend his proposal for a "bipartisan" redistricting commission to a "nonpartisan" commission, in which minor party and politically unaffiliated individuals would feel welcome to participate in suggesting reforms to Maryland's electoral system.